Medical Electronic Devices
High reliable materials for medical electronic devices
Reliable diagnostics, effective treatment and improved patient comfort have always been primary objectives for the healthcare industry, and the technologies used to enable optimal patient care are central to achieving these goals. For decades, Henkel electronic materials have facilitated the design and manufacture of leading-edge medical devices, all engineered to streamline diagnostics and improve patient outcomes.
Greater access to healthcare, more self-monitoring, and a drive toward less invasive devices and procedures are challenging traditional medical electronics. With the increasing healthcare costs innovators in the field of medical electronics are developing new solutions for remote diagnostics and physician reporting – all designed to manage resources more effectively while simultaneously delivering better patient care. With high-reliability materials formulated specifically for fail-safe medical applications, Henkel has electronic materials solutions for a wide range of medical devices – from biological sensors to implantable microelectronic assemblies to advanced diagnostic equipment.
High Performance Material Solutions for Current and Future Medical Electronics and Healthcare Applications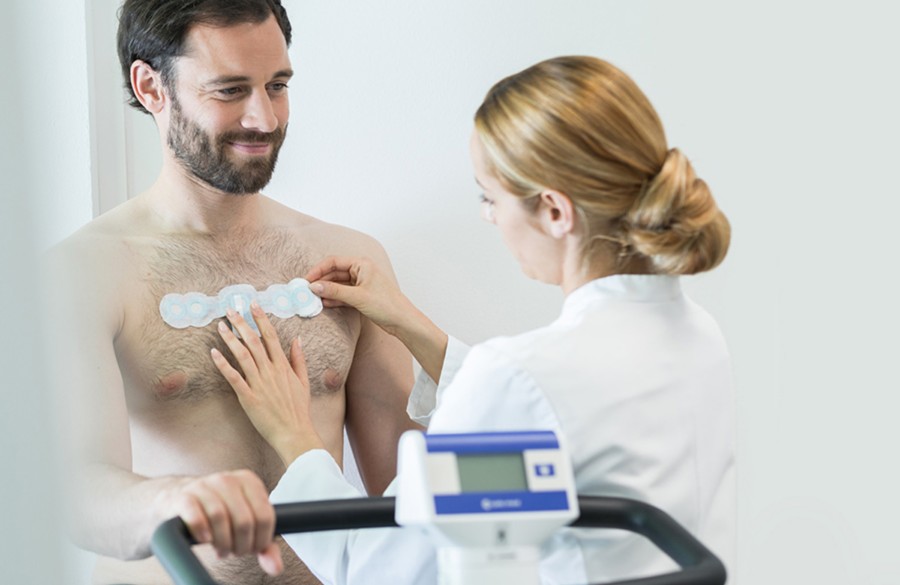 Henkel has developed high-reliability electrically conductive material solutions tailored to the unique requirements of medical electrodes, including TAB ECG, TENS, Grounding, and Defibrillation Electrodes. From the sensing materials to the skin adhesive, Henkel's medical solutions are the enabling factor for performance, reliability and comfort.

Henkel's medical electrode materials portfolio helps device manufacturers:
Improve patient comfort
Offer long- term wear and remote monitoring
Increase reliability and signal quality
Produce cost-effective electrodes
Henkel's conductive ink materials enable the production of glucose test strips that facilitate self-monitoring of blood glucose (SMBG) levels. These conductive materials are the primary component for glucose sensing functionality, which directly impacts the patient's well-being.

Continuous glucose management (CGM) is the future of blood sugar monitoring and is growing in effectiveness and implementation. Rather than requiring small blood samples several times per day to determine intermittent blood glucose levels, the CGM continuously measures the glucose in blood and displays the data on a reader device. This allows patients to thoroughly monitor glucose levels for more timely insulin injections. Conductive sensing materials and skin-grade adhesives from Henkel are key enablers for reliable CGM skin patches.
An increasing geriatric population, alongside rising healthcare costs, is driving the development of novel monitoring tools to help improve patient comfort and reduce expenses. Henkel is answering this call with multiple approaches, one of which is smart incontinence management through the use of cost- effective printable moisture sensors that can be worn comfortably and send real-time communication when replacement supplies are required.
Henkel conductive inks allow for the manufacturing of responsive, disposable healthcare products including smart diapers, smart bed pads and industrial applications. Henkel's electrically conductive materials can be directly applied by high-speed flexographic print processes onto thin, flexible materials used in the assembly of healthcare products, which further reduces cost by increasing throughput.
Smart health patches are the latest advance in patient monitoring, and can continuously measure heart rate, brain activity, movement and many other human body functions. These patches leverage on-skin sensor technology, miniaturized hardware and data communication to accommodate patient comfort.
Electrode materials, conductive inks, protective coatings and skin-grade adhesives from Henkel allow new smart medical devices and disposable healthcare products to be produced in high volume and deliver reliable in-application functionality.
Henkel has developed a complete line of general medical assembly materials that facilitate the electrical connection, structural integrity, device protection and thermal control required for small form factor, mission-critical medical products. 
The medical materials portfolio includes: 
Resources for Medical Electronics Devices
Brochure: Medical Brochure
Contact us
Please fill out the form below and we'll respond shortly.